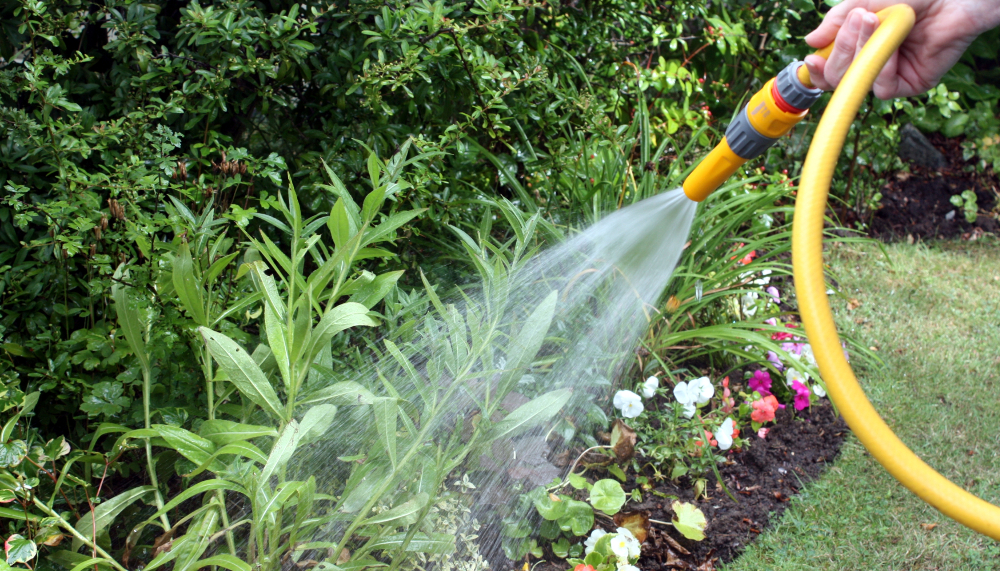 Hello Summer, the temperatures are rising, and the sun is beating. You have probably gotten your garden almost- if not completely done! But the temperatures have risen- oh no, the plants don't look so good. What happened you may ask? Here at Eckert's Greenhouse in Sterling Heights, MI- we want to supply our customers with the knowledge to succeed and grow beautiful gardens.
With that, it's time to talk about the importance of watering when the temperatures are high. Just watering daily isn't enough- it's about the quantity of water and feeding. On average a 11" basket requires 24 to 32 oz per day. While a 14" pot requires 28 to 44 oz; don't forget about your flower beds. While a sprayer is quick and easy its harder to get the volume needed for success. If watering by hose; count a slow 10 (1 one thousand, 2 two thousand, 3...). OH! The tomatoes called and said they were thirsty too! A full-grown plant with fruit needs at least 1 to 2 gallons per day! Wow- they can drink a lot!
When should you water? The best time to water is in the morning because your giving your plants a better chance for the day. By watering in the morning, the plants have all day to slowly drink in that water. If you wait until you get home after work and it's been hot- your plants have been stressed out, getting no relief from the sun or the temps.
As said before, plants are living things too, so not just water but FEED them too! We highly recommend fertilizing your plants once a week to give them that extra dose of nutrition. We carry Espoma organic fertilizers and Jack's Classic water-soluble fertilizers. Talk to one of our staff to find out which fertilizer would be best for your plants. Fertilize in the morning as well so your plants have time to drink deep and you don't risk giving them a burn.
If you want a successful garden don't forget to water and feed your plants appropriately. We wish all of you a wonderful summer and enjoy your flowers!
Posted June 2018
Eckert's Greenhouse