Plants & Plant Care
We carry the best selection of annuals, perennials, and exotic plants in Sterling Heights.
Eckert's Greenhouse & Perennials is known in and around Sterling Heights for our huge variety of plants. From the rare and unusual, to the preferred and popular, we deliver the best plants and supplies around. Visit Eckert's for all of your gardening needs.

The Eckert's Healthy Plant Guarantee:
We guarantee that our plants will be healthy when they leave our home and go to yours. To ensure at-home success, plant according to label directions. Better yet, ask any of our knowledgeable sales staff for help.

---
Choosing the right plants for your garden's location is important for plant health.
Sun loving plants won't tolerate a shady garden and likewise too much sun can be damaging for other plants. Our staff will help to educate you on the proper care for your plants, but we've put together a quick sun tolerance guide here.
Definitions of Sun Tolerance:
Full Sun = 6-8 hours of direct sun during the hottest part of the day
Part Sun = 4-6 hours of sun but avoiding the hottest part of the day between 1-3 pm
Part Shade = 4 hours or less sunn
Shade = no direct sun or dappled light
---
We create stunning pre-planted baskets to give immediate color to your patio or yard.
Visit our store for a whole selection of pre-planted and gift items. Our plant and garden experts use companion plants to create mosquito repelling planters. Combining different colors makes for a fun, eye-catching basket on a patio. But, a bold and single colored hanging basket is striking. Our team of friendly gardening experts will give you tips and tricks to keep your plants thriving. They can also give you advice on the best plants to plant together. Visit our Sterling Heights greenhouse and see all the great hanging baskets and planters our staff is creating for the season!
Visit Our Greenhouse For:
Combo Planters
Decorative Planters
Hanging Baskets
Pouches
Half-Wall Baskets
Succulent Containers
And More!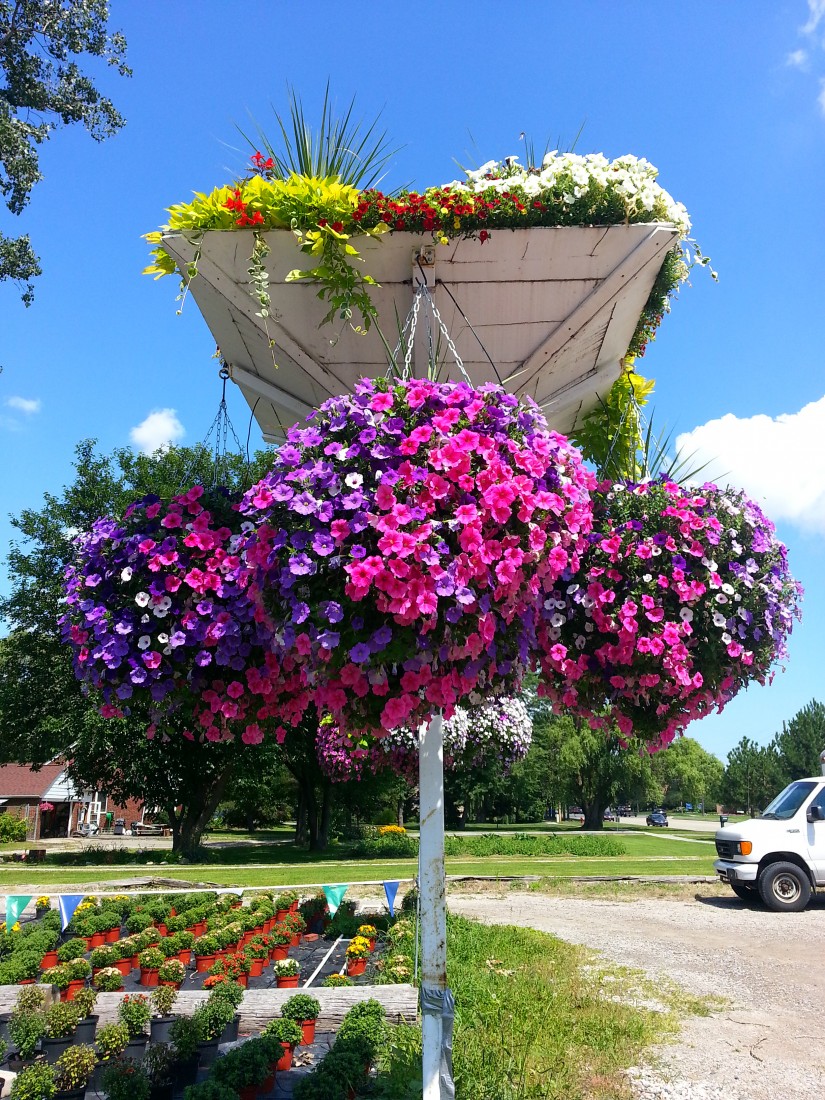 ---
Monarch butterflies are an important pollinator, but as numbers decrease our ecosystem weakens.
In 2010, Eckert's became Certified Monarch Waystation #3795.
Our mission has been to protect monarchs from the loss of milkweed in our community. We became a monarch waystation and we regularly host pollinator education events to bring education to our community. Your home, school, or business can help to preserve the beautiful monarch butterflies. Our staff assist you with selecting the right plants to start your very own monarch habitat.
Some of the Best Plants to Attract Monarchs:
Tropical Milkweed
Swamp Milkweed
Indian Blanket
Purple Coneflower
Scarlet Sage
Zinnias & Dahlias
Joe Pye Weed
Lantana
Pentas
Bee Balms
Phlox
Sedums
Black Eyed Susans
Dianthus
---
Our customers come to us from all over the state of Michigan for our great selection of plants. But many of our customers come from Sterling Heights and the surrounding area. This area includes Warren, Troy, Royal Oak, and Utica. Give us a call at (586) 264-5678 for more information.